Ashley Davis, PhD, RN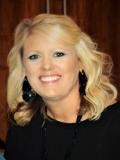 Dr. Ashley Davis, PhD, RN is the Executive Director of the Arkansas Center for Nursing, where she also oversees the work of the Arkansas Action Coalition. The Arkansas Center for Nursing is Arkansas' only nursing workforce center and serves as a statewide data clearinghouse regarding nursing practice, nursing workforce supply and demand, and nursing education. Under Ashley's direction, the Arkansas Center for Nursing works to promote a culture of health for the citizens of Arkansas by advancing nursing education, practice, leadership, and workforce development.
Ashley holds a PhD in Nursing. Her research was focused on the mental health needs of nursing students. She has clinical expertise in pediatric cardiology and more than 15 years of experience in nursing education. Ashley continues to teach nursing students through Capella University with a focus on community health and nursing leadership.
Return to Tri-State Nurses on Boards Training