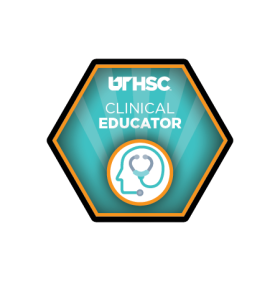 TLC Clinical Educator Medallion
The Clinical Educator Medallion is an asynchronous faculty development program focused on teaching clinical faculty evidence-based pedagogical strategies to effectively teach students in the clinical learning environment. These strategies include setting learner expectations, giving effective feedback, implementing case-based learning, and using questions as a teaching tool. Participants also explore challenges faced when teaching in the clinical setting, identifying strengths and weaknesses as educators, and developing improvement plans. The medallion is comprised of educational activities (e.g., recorded webinars, articles, written reflections, and activities) and a culminating project that takes approximately 20 hours to complete.  
Target Audience
Clinical faculty who educate students, residents, and fellows who are participating and have completed the Clinical Educator Medallion
Learning Objectives
Identify challenges faced when teaching in the clinical setting and identify feasible solutions.

Implement evidence-based strategies to provide timely and actionable feedback, to design case-based learning activities using learner centered frameworks, and to use questioning to enhance critical thinking skills.

Design and implement an individualized improvement plan to enhance your teaching in the clinical setting.
Students will complete the introduction, final project, and four of the six options as described in the table.
Introduction 3.5 Hours
  Watch Faculty Panel video
  Read articles: ABCs of Learning and Teaching in the Clinical Environment
  Submit reflection on being faculty at UTHSC
  Watch Student Panel video
  Submit reflection on being a student at UTHSC
CHOOSE 4 of the Following 6 Sections  as options (Complete 4 of the 6 options – 3 hours each option)
Challenges of Teaching in Clinical Setting Silver Medallion (option1) 3 hours
  Self-reflection activity: what challenges do I face?
  Read Barriers to Teaching in the Clinical Setting
  Watch Challenges of Teaching in the Clinical Setting video
  Submit "Identify Solutions Activity"
Characteristics of Effective Clinical Educators Silver Medallion (option 2) 3 hours
  Watch Characteristics of Effective Clinical Teachers video
  Read articles by Buchel (2005) and Panlican (2020)
  Watch "Qualities of a Good Teacher" video
  Complete the "Mirror, Mirror" activity
Setting Learner Expectations Silver Medallion (option 3) 3 hours
Watch the Setting Learner Expectations video
Read article by Peters and watch UAB SOM video
Develop and Submit a Game Plan
Giving Effective Feedback Silver Medallion (option 4) 3 hours
Watch the Giving Effective Feedback video
Complete the Feedback Scenarios activity
Submit reflection on your feedback techniques
Case-based Learning Silver Medallion (option 5) 3 hours
Watch the Case-based Learning video
Read articles and watch video of examples
Submit reflection on using CBL
Questioning as a Teaching Tool Silver Medallion (option 6) 3 hours
Watch the Questioning as a Teaching Tool video
Read three articles about questioning techniques
Submit reflection on using questioning techniques
Clinical Educator Final Project Silver Medallion (Complete last) 4.5 hours
Develop activity or improvement plan
Meet with TLC consultant to discuss plan
Implement plan
Submit reflection about the plan
Dr. Hall is an instructional consultant with extensive experience in course design. She used her knowledge to design a series of readings, consults, and online activities to design the online course. The course has been offered for several years, so she has been able to receive feedback from participants to affirm the time requirement.
Course Director(s)
has no relevant financial relationships to disclose at this time.
Planner(s)
has no relevant financial relationships to disclose at this time.
has no relevant financial relationships to disclose at this time.
The University of TN Health Science Center College of Nursing, Memphis is accredited as a provider of nursing continuing professional development by the American Nurses Credentialing Center's Commission on Accreditation.
In order to receive full contact hour(s) for this educational activity, you must:
Complete the activities of TLC Clinical Educator Module as instructed in the Black Board Course

Complete and submit the Evaluation
Disclosures: 
Conflicts of Interest: A Conflict of Interest occurs when an individual has an opportunity to affect educational content about health-care products or services of a commercial interest with which she/he has a financial relationship.
The planners and presenters of this NCPD activity have disclosed no relevant financial relationships with any commercial interests pertaining to this activity
Commercial Support: No
Noncommercial Sponsor Support: No
Off-label Product Use: This NCPD activity does not include any unannounced information about off-label use of a product for a purpose other than that for which it was approved by the Food and Drug Administration (FDA).

Available Credit
20.00

ANCC

20.00

Attendance