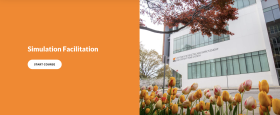 ARCHIVED 8/18/23 CHIPS Module 3: Prebriefing
The Center for Healthcare Improvement and Patient Simulation has created a series of modules to serve as simulation professional development opportunities. Prebriefing is the first crucial step in simulation implementation.In this module the best practice evidence and standards for the prebrief are presented. Included are videos of actual prebrief deliveries as well as sample prebrief scripts. 
Remember that you can enroll in this module and complete at your own pace. Participants will find by viewing videos and accessing module resources, it will take approximately 50 minutes for module completion. You do have the option to stop and resume completion at any point in the module.
Learning Objectives
By the end of this module, learners will be able to:
define prebriefing based on best practice evidence

identify the essential components that comprise an effective prebrief for learner success

recognize the impact prebriefing has on simulation education in general

analyze best practices in prebrief design and facilitation
Please remember that you must complete the Module at 80 percent mastery.
Once the Module is completed you will click " Next" to access the post-module evaluation.
After completing the evaluation survey, the Course Certificate option will appear and the Certificate of Achievement can be downloaded.