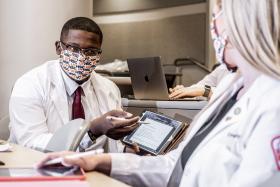 Becoming a Pharmacy Educator
Welcome to the first month of the Pharmacy Educator Academy! This month we will focus on registration, learn how to use CENow as our Learning Management System (LMS), and begin thinking about who you want to be as a pharmacy educator. This month you will have three activities to complete:
1. Please post on the Miro Discussion Boards by 8/24 at 11:59 PM CST.
2. Join the live session on August 25th to learn more about 'Becoming a Pharmacy Educator' with Drs. Christa George and Chris Wood.
3. Complete the assignment 'Big Dreams as an Educator' by 8/31 at 11:59 PM CST.
We look forward to meeting you all this month!
Learning Objectives
At the end of 'Becoming a Pharmacy Educator,' participants will be able to:
use CENow to access assignments, discussion boards, and course information;
identify their 'Big Dreams' as pharmacy educators