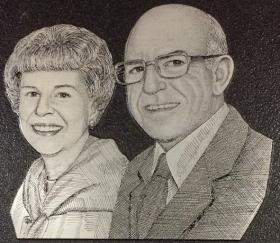 Clone of 2021 William T. Cashdollar Distinguished Visiting Professorship
The William T. Cashdollar Distinguished Visiting Professorship is a dedicated lecture series created to help healthcare providers minister to the needs of dying persons and their families, as well as to their fellow professionals who provide the care. The University of Tennessee Health Science Center College of Nursing is able to offer this exceptional series of lectures devoted to end-of-life care because of the generosity of William Cashdollar's wife, Kathy Cashdollar.
Mrs. Cashdollar, through her caring concern, observed the extreme difficulties involved in communication as she experienced the dying of her husband, William. She played an integral role in the creation and direction of this important lectureship. It was her dedication and concern that enables UTHSC to continue this lectureship in end-of-life care.
Mrs. Kathy Cashdollar passed away in 2007 after dedicating nearly 20 years of her life to this important endeavor. She was able to see, firsthand, the interest in end-of-life care continue to grow until it is now a national priority, not only for nursing, but health care in general.
Target Audience
Nurses, nursing students, healthcare professionals, and caregivers who are interested in end-of-life care and/or palliative care. All audiences that are interested in this topic are encouraged to attend.
Cynda H. Rushton, PhD, RN, FAAN
Anne and George L. Bunting Professor of Clinical Ethics
Berman Institute of Bioethics/School of Nursing
Professor of Nursing and Pediatrics
Johns Hopkins University
UTHSC College of Nursing, Memphis is accredited as a provider of nursing continuing professional development by the American Nurses Credentialing Center's Commission on Accreditation.
Available Credit
2.50

ANCC

2.50

Attendance