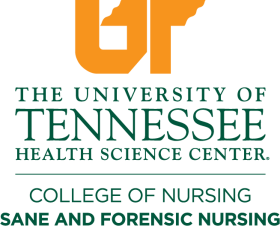 Sexual Assault Nurse Examiner–Adult/Adolescent (SANE-A) Clinical Skills Simulation Training Lab
November 9, 2023

to

November 10, 2023
The University of Tennessee Health Science Center College of Nursing's Annual Forensic Nursing is offering a Sexual Assault Nurse Examiner- Adult/Adolescent (SANE-A) Clinical Skills Simulation. This course is funded by a grant the from Health Resources and Services Administration (HRSA).
Target Audience
 Advanced Practice Nurses and Registered Nurses that are ANE-SANE HRSA Grant Recipients  
Learning Objectives
Identify specific structures of the male and female genital anatomy.

Demonstrate appropriate use of a Foley catheter for hymenal assessment.

Demonstrate appropriate use of a speculum for cervix visualization and evidence collection.

Demonstrate a trauma-informed approach to clinician-patient introduction following SA.

Identify the critical components of clinical photography and demonstrate effective use of a camera to document clinical findings.

Describe the mechanism of action of TD-blue dye and how to properly apply and remove.

Demonstrate effective history-taking and physical examination skills.

Demonstrate proper evidence collection, packaging, and maintenance of chain of custody.

Discuss STI risk, testing, and treatment considerations.

Formulate an appropriate treatment plan, including safe discharge.
Center for Healthcare Improvement & Patient Simulation (CHIPS)
26 South Dunlap Street
United States
Conflicts of Interest: A Conflict of Interest occurs when an individual has an opportunity to affect educational content about health-care products or services of a commercial interest with which she/he has a financial relationship.
The planners and presenters of this NCPD activity have disclosed no relevant financial relationships with any commercial interests pertaining to this activity.
Commercial Support: No
Noncommercial Sponsor Support: No
Off-label Product Use: This NCPD activity does not include any unannounced information about off-label use of a product for a purpose other than that for which it was approved by the Food and Drug Administration (FDA).
NCPD Credit Designation: The University of Tennessee Health Science Center, Memphis designates this live activity for 16 hours NCPD credits. No partial credit will be awarded. To receive full contact credits, you must be in attendance for at least 80% of the program, and complete and submit the evaluation at the conclusion of the event.
Successful Completion of this Nursing Professional Development Activity:
In order to receive full contact-hour credit for this NCPD activity, you must:
Be in attendance for at least 80% of the program, and

Complete and submit the Evaluation through the link provided at the conclusion of the program.
---
---
The University of TN Health Science Center College of Nursing, Memphis is accredited as a provider of nursing continuing professional development by the American Nurses Credentialing Center's Commission on Accreditation.

Available Credit
16.00

ANCC

16.00

Attendance