October 2023 Sickle Cell Disease Nursing Bootcamp: Train the Trainer
October 30, 2023

to

November 3, 2023
This initiative will be an opportunity offered for nurses to learn the care of sickle cell patients in an academic setting with instructors who are education, sickle cell disease and research experts.
Sickle cell disease is one of the most common hematologic disorders and is prevalent in the Mid-South, but education and resources are severely lacking for providers who care for patients living with the disorder. This 5 day bootcamp will provide robust training on sickle cell disease and will prepare you to train others on the disease.
Target Audience
Registered Nurses, Social Workers, Nurse Educators 
Learning Objectives
Identify signs and symptoms of sickle cell emergencies and the appropriate interventions.

Demonstrate understanding of nursing management of sickle cell complications, including pain, acute chest syndrome, stroke, and renal disease.

Describe health disparities in patients with sickle cell disease.

Explain appropriate interventions to promote mental health in patients with sickle cell disease.

Identify medical and procedural therapies for patients with sickle cell disease and the nursing implications.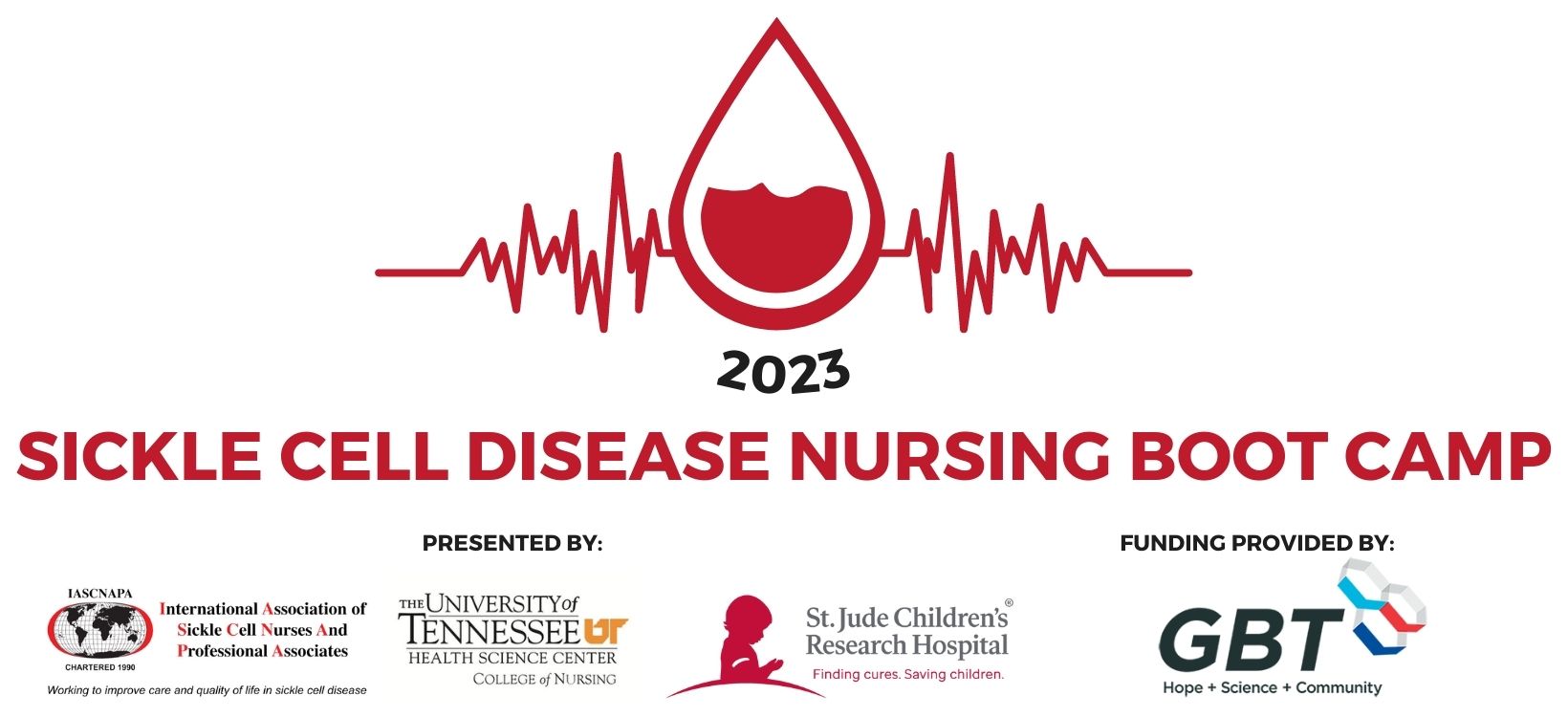 UTHSC - Crowe Building
874 Union Avenue
United States
Conflicts of Interest: A Conflict of Interest occurs when an individual has an opportunity to affect educational content about health-care products or services of a commercial interest with which she/he has a financial relationship.
The planners and presenters of this NCPD activity have disclosed no relevant financial relationships with any commercial interests pertaining to this activity.
Commercial Support: No
Noncommercial Sponsor Support: No
Off-label Product Use: This NCPD activity does not include any unannounced information about off-label use of a product for a purpose other than that for which it was approved by the Food and Drug Administration (FDA).
______________________________________________________________________________________________________________________________
UTHSC College of Nursing, Memphis is accredited as a provider of nursing continuing professional development by the American Nurses Credentialing Center's Commission on Accreditation.

17 NCPD credit hours will be awarded for this event.
In order to receive credit hours for this NCPD activity, you must:
Be in attendance for at least 80% of the program, and
Complete and submit the Evaluation and Verification of Attendance through the CENow Learning Management System (A code will be provided to you at the closing of the bootcamp to access the evaluation and verification of attendance through the CENow Learning Management System)
Available Credit
17.00

ANCC

17.00

Attendance